Our Technology
The core of Cibus' technology is its Rapid Trait Development System™ or
RTDS

®. It is a system of proprietary technologies that integrates crop specific cell biology platforms with a series of gene editing technologies to enable a system of end-to-end crop specific precision breeding.
RTDS

holds the promise of transforming a lengthy and random conventional plant breeding process into a semi-automated end-to-end precision breeding process that is timebound and predictable.
The Trait Machine™
A key element of RTDS is that it has enabled a system of end-to-end crop specific gene editing platforms. Based on RTDS, Cibus expects to be operational in Q2 2023 with the industry's first standardized semi-automated end-to-end gene editing facility called: The Trait Machine™. The traits from this facility will be indistinguishable from traits from conventional breeding (or nature). Gene edited traits of this kind are widely acknowledged to pose no greater risk than conventionally bred varieties and are increasingly being regulated in a similar way.
We believe that this facility is a critical milestone in the plant breeding industry. It will be the first stand-alone facility that uses a scientific approach to breeding traits in a timebound and predictable process. This process offers several critical benefits:
It changes trait development by materially shortening the timeframe to develop new traits using a timebound and predictable process.


It shortens the time to launch new traits by enabling Cibus to directly edit a customer's elite germplasm and transfer back to the customer its germplasm with the specific trait and trait-specific markers for accelerated commercialization.
The benefit of the Trait Machine™ process is seen in Cibus' progress in developing and commercializing its new traits. Cibus has developed and is beginning commercialization of three different traits desired by key commercial seed company collaborators. One trait is an important trait for Pod Shatter Reduction (PSR) in canola. Two of the traits are for novel herbicides in rice providing additional weed management tools for rice farmers.
In addition, Cibus has three more traits that are in advanced development. For the developed traits, Cibus expects to begin transferring each of these traits in customers' elite germplasm in Q1 2023. It is expected that these traits will begin commercial launch in 2025. Each of the three developed traits have been determined not to be regulated articles through the USDA's "Am I Regulated" Process which was replaced with the SECURE Rule's Confirmation Process.
The progress of Cibus' trait development program is contrasted by a recent 2022 study using data from all the major seed companies that showed that average time for trait development using conventional breeding was 14.5 years. This is the promise of gene editing, in general, and of Cibus' RTDS system of technologies specifically.
By using a dedicated Trait Machine™, proprietary to Cibus and unique in the world, there are an innumerable number of trait development opportunities relevant to addressing sustainability challenges due to climate change and population growth.
RTDS's Trait Machine™ process is also important in the development of renewable low-carbon plant-based ingredients. It has the potential to materially change the time required to develop plants that could provide renewable plant-based ingredients like replacements for fossil fuels in jets and alternatives for palm oil or palm kernel oil. The development of products like these are a critical part of the global 2040 commitments to achieve Net Zero Carbon.
Regulatory Status
One of the pillars of RTDS is its proprietary technology called Oligonucleotide Directed Mutagenesis (ODM). ODM introduces types of genetic changes identical to those known to occur in nature between every generation of every species. For this reason, the traits from Cibus' ODM technology are indistinguishable from traits produced by conventional breeding. Over the past several years, virtually all of the countries that have adopted regulations for gene editing have elected to treat traits like these in the same way as traits from conventional breeding.
In November 2019, following a request from Member States, the European Commission undertook an extensive study on gene editing technologies which it described as New Genomic Techniques (NGTs), which include ODM. In April 2021, the Commission published a report that concluded that new genomic techniques can contribute to the Green Deal and Farm to Fork objectives of innovation and sustainability of the food system, as well as to a more competitive economy, which are at the centre of current priorities of the EU. The report also concluded that existing EU legislation was not fit for purpose when considering NGTs and that any new legislation should aim at enabling NGT products to contribute to sustainability in EU agrifood systems.
In common with many other authorities, the Commission also concluded that specific NGT techniques (including ODM) and conventional breeding could produce plants with similar risk profiles, thus nullifying the need for different regulatory oversight for similar products with similar levels of risk.
Following the study, the Commission embarked on an impact assessment and two rounds of public and stakeholder consultation with the aim of developing new legislation for proposal to the European Parliament and Member States by the second quarter of 2023.
The Commission report also highlighted the importance of consistent international regulatory oversight in order to avoid unjustified technical barriers to trade that could lead to disputes between the EU and trading partners. This was also emphasized in a statement from leading trading nations issued through the World Trade Organisation in 2018. The statement called for intergovernmental cooperation to promote a consistent science-based approach to the regulation of the products of gene editing technologies, including ODM, in order to support open and fair trade and to encourage research and innovation.
We believe that when the global regulatory deliberations for gene editing conclude, crop trait products that could also have been developed through conventional breeding, like those from our RTDS breeding platform, will be regulated on the same basis as conventional breeding by most, if not all jurisdictions, globally.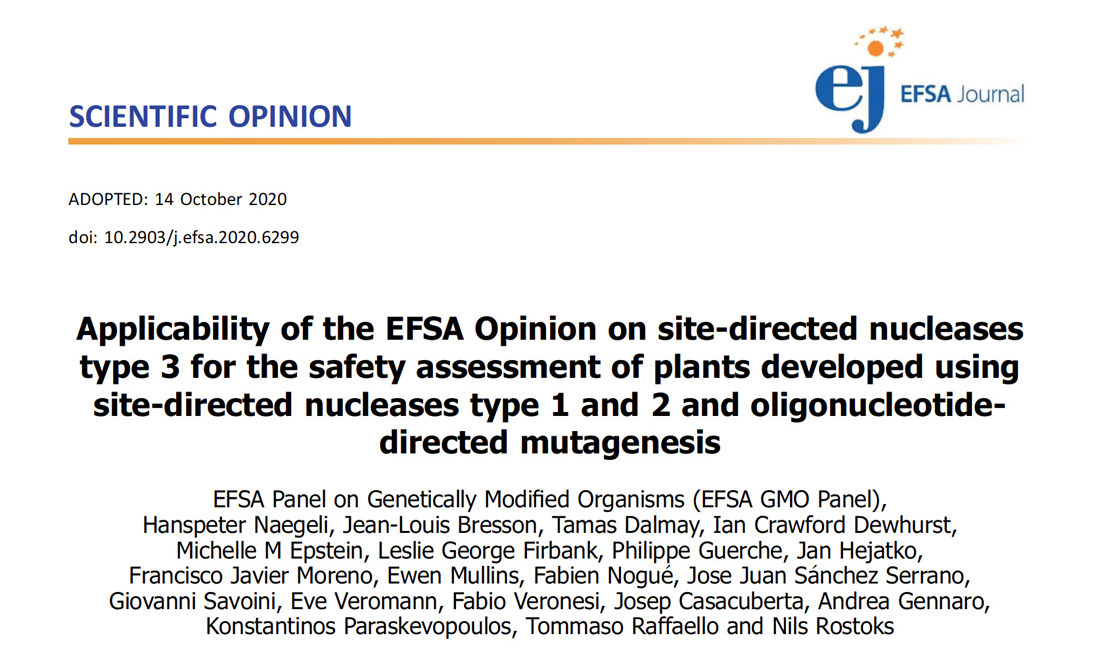 Comparison of Different Breeding Technologies
A key aspect of RTDS is the speed, scale and cost of its implementation. The below table compares RTDS to other associated technologies.