MEDIA INQUIRIES | (619) 849-6009 |
For Immediate Release
California Congressman Scott Peters Makes Official Visit to Cibus' San Diego Headquarters
San Diego, CA (October 25, 2016) — On October 4, Congressional Representative Scott Peters, who represents California's 52nd Congressional District, visited the San Diego headquarters of Cibus, a leader in developing products using novel non-transgenic (non-GMO) breeding technologies. Peters visited the labs at Cibus and its subsidiary company Nucelis, and met with Cibus executives including Peter Beetham, Greg Gocal, and Sean O'Connor to discuss the many positive ways Cibus' technology has been laying the groundwork to help feed the world. Cibus employs a staff of over 110 in Peters' district.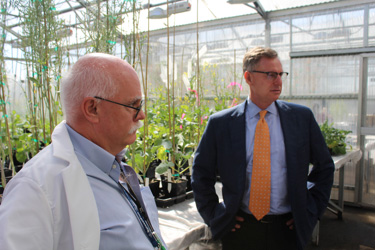 Representative Peters spent roughly two hours touring Cibus' state-of-the-art facilities, learning first-hand how Cibus scientists develop non-transgenic traits in crops including canola, flax, potatoes and rice. He spoke at length with 60 Cibus employees, addressing their concerns, encouraging STEM education for our nation's youth, and sharing his wonder at their tremendous accomplishments in just 15 years.
"Cibus is at the forefront of breakthroughs in precision gene editing that are poised to improve traits in every major crop within the next decade," said Rep. Peters. "Their agricultural research and breeding has the potential to improve crop yields and make farming more sustainable and drought resistant."
"It's important to have the support of Congressman Peters and other elected officials during this remarkable time in agriculture and technology," said Peter Beetham, PhD, President & Chief Executive Officer of Cibus. "Because of the rising costs of developing transgenic crops and their lack of global acceptance, there is a pivot in the industry towards non-transgenic breeding technology. Cibus is answering this need by developing non-transgenic traits in major crops."
"The research and crop development being done at Cibus is a perfect example of how San Diego is leading the country in the biotech industry," Peters said. "The Rapid Trait Development System™ technology, RTDS®, combined with their impressive labs is changing the world of plant breeding through new and innovative methods to address food production and hunger issues."
Congressman Peters was elected in 2012 and serves a district that includes the cities of Coronado, Poway and most of northern San Diego. He currently serves on the House Armed Services Committee & the House Judiciary Committee, with a focus on intellectual property protection. In addition to representing hundreds of the best scientific organizations in the world, Peters is also Biocom's Elected Official of the Year for 2016. Peters has received this honor three times and is the first to receive the award for two consecutive years. Congressman Peters is also a co-founder of the bipartisan Life Sciences Caucus in the U.S. House of Representatives.
To schedule an interview with a Cibus representative, please contact Shawna McGregor at 917-971-7852 or .
About Cibus
Cibus (www.cibus.com) is a leading precision gene editing company with a unique, patented technology for naturally modifying cell functions. With over 300 patents and patent applications, Cibus is a technology leader in the silent revolution in the development of non-transgenic traits. Cibus' non-transgenic technology enables it access to global multibillion-dollar markets in agriculture, specialty chemicals, and human health. Utilizing its patented Rapid Trait Development System™ (RTDS®) technology, Cibus offers a disruptive alternative to transgenic approaches. To date, international regulatory authorities have deemed traits from Cibus' RTDS technology to be indistinguishable from mutagenesis associated with normal breeding and thus have determined that these traits will be globally acceptable. Cibus has a worldwide presence, with subsidiaries in both Europe and North America, including Nucelis, its bio-industrials division, and a state-of-the-art research and development center in San Diego, California. Cibus' core purpose is to lead the transition to sustainable non-transgenic agricultural and industrial products and improved human health by harvesting nature's natural diversity. For more information, visit cibus.com. Find Cibus on LinkedIn, Twitter, Instagram and Google+.