MEDIA INQUIRIES | (619) 849-6009 |
For Immediate Release
CONTACTS:
INVESTOR RELATIONS CONTACT Karen Troeber

858-450-2636
MEDIA RELATIONS CONTACT
Cassidy McClain

619-849-6009
USDA-APHIS Designates 12 Additional Cibus Trait Products as Not Regulated
Trait products largely relate to fungal-disease resistance and herbicide resistance in canola, further bolstering Cibus' position as a leader in non-GMO input and agronomy traits
San Diego – October 13, 2020 - Cibus, a leader in input and agronomy trait products, announced today an additional 12 of its trait products have been designated as non-regulated by the United States Department of Agriculture's Animal and Plant Health Inspection Service (USDA-APHIS) Biotechnology Regulatory Services (BRS). This brings Cibus' total number of designated non-GMO trait products to 14.
All 14 new trait products are developed or under development utilizing Cibus' Rapid Trait Development System™ (RTDS®). This technology creates targeted genetic changes without integrating recombinant DNA – foreign genetic material – at any stage in the crop's development. As a result of this designation, the USDA-APHIS BRS has confirmed the plants do not meet the definition of a regulated article under 7 CFR Part 340, which enables Cibus to proceed and continue with field testing of these 12 additional trait products.
Importantly, 10 of these newly designated products are classified as input and agronomic traits for canola. Input and agronomic traits help to benefit agriculture and food sustainability by enabling farmers to change how they manage yield, disease, pests and weeds, helping farmers to address changing environmental conditions such as weather and climate stress. These products are expected to be commercially available over the next five years, and they include:
Agronomic: A pod shatter-reduction trait that provides farmers greater flexibility for harvest timing, particularly under adverse weather conditions.
Input (fungicide): Eight traits that bolster a canola crop's resistance to fungal disease (diseases that can reduce yields by as much as 50%), all while lowering fungicide inputs.
Input (herbicide): A trait for resistance to a novel herbicide that provides an alternative, more efficient weed control option. This can help to improve canola yields while lowering herbicide inputs.
In addition, Cibus received approval for a high oleic acid trait in canola that provides a healthier oil in the nutraceutical market and is a more stable frying oil for food companies and food service operations, as well as approval for an additional herbicide resistance trait in rice. Of note, Cibus' high oleic acid trait is currently licensed to Valley Oils Partners, LLC for development in California.
"We continue to be encouraged by the broad USDA-APHIS' designation for traits developed using our RTDS trait platform across many different crops and different input and agronomic trait areas," said Peter Beetham, Ph.D., CEO and president of Cibus. "We are especially excited by our family of trait products for canola farmers. These traits address three important conditions canola farmers face every day and offer a way to change canola farming practices that will provide lower costs, improve yields and help in the ongoing global drive to sustainability."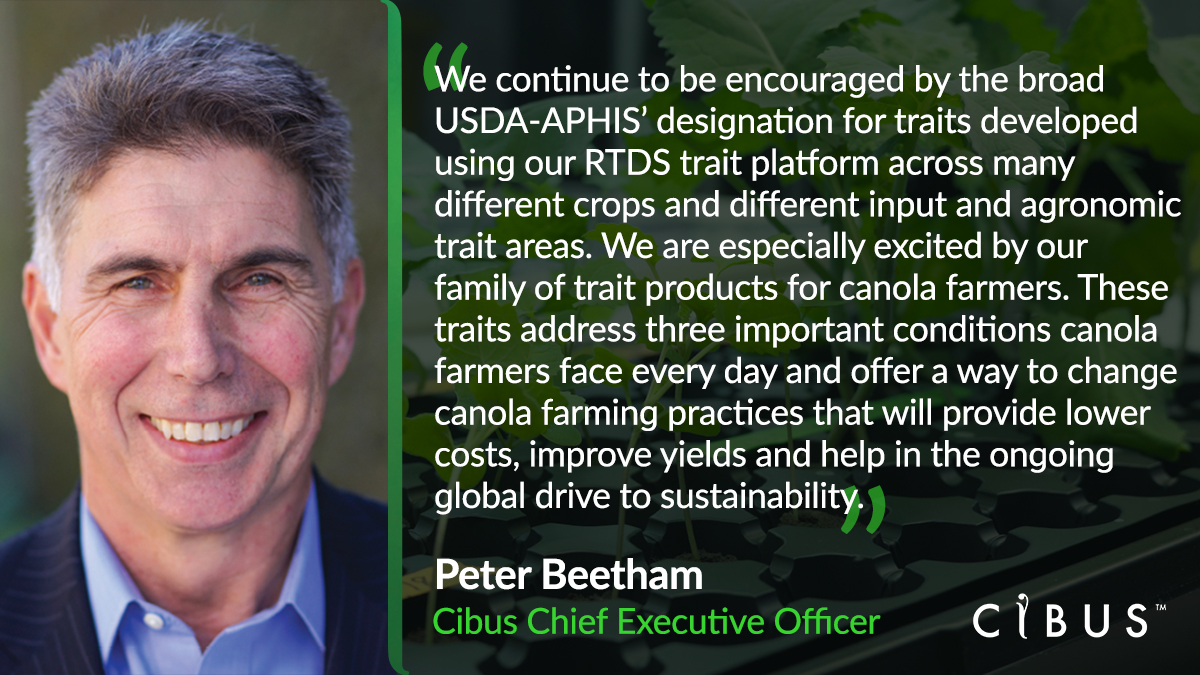 USDA-APHIS confirmation supports other global approaches around the world in which the results of precision gene editing leading to nature-identical outcomes will be regulated as conventional varieties under the current legislation. With the USDA-APHIS approving these 12 canola and rice trait products for continued development, Cibus will continue advancing traits on its own and with partners to provide crucial benefits to consumers and alleviate farmers production constraints.
Importantly, regulatory policy associated with these advanced breeding technologies has been undergoing review and revision in many regions of the world, including the European Union (EU) and Asia. In the EU, the Farm to Fork Strategy, aimed at ensuring food security through enabling new input and agronomic traits, will be critical to meet their aggressive and important targets for addressing climate change, reducing the use of agricultural chemicals by 50% and fertilizer use by 20% by the end of the decade.