MEDIA INQUIRIES | (619) 849-6009 |
For Immediate Release
Cibus to Share Latest Advancements in
SU Canola™

at Upcoming Agricultural Conferences

Farmers can receive higher returns per acre with SU Canola

SAN DIEGO - September 13, 2017 - Cibus, a leading plant breeding company providing choices to the agricultural community, will discuss the latest developments in SU Canola™ with farmers at top agri-business conferences this fall.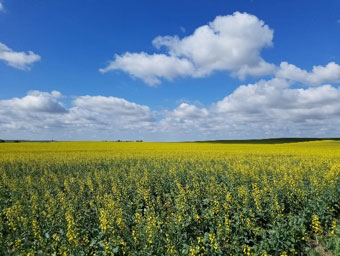 "Farmers can receive higher returns per acre with Cibus' SU Canola," said Dave Voss, Vice President, Commercial Development at Cibus. "Our focus is to develop crops that reduce chemical inputs--such as fertilizers, herbicides and pesticides--and are less susceptible to diseases."
Cibus executives will participate at the following events:
The Big Iron Farm Show (West Fargo, ND: September 12-14, 2017): Cibus and Cargill representatives will host grower meetings on site at the show and a partner kickoff for retailers at the Delta Hotels, Marriott Fargo. Cibus staff will also be available at the Cibus booth (Booth K10), as well as the Cargill booth (Booth A3-5). The Big Iron Farm Show strives to educate farmers and ranchers from around the world with the latest cutting-edge agricultural products, equipment, technology and services.
The Northern Ag Expo (Fargo, ND: November 28-29, 2017): Cibus will be available at Booth 100 at the trade show for providers of equipment, products, and services to agricultural dealers, the region's farmers, and the entire agricultural industry.
Montana Grain Growers (Great Falls, MT: November 29-30 2017): Cibus will meet with farmers at a booth on the agriculture floor. The annual convention and trade show brings together a mix of producers and agribusinesses whose focus is to promote agriculture.
Heartland AG Showcase (Minot, ND: December 5-6, 2017): Cibus will be available at Booth 333 and 334 for year-end sales of seed and to discuss upcoming projects.
Northern Canola Growers Association (Langdon, ND: December 5, 2017): Cibus will discuss the latest developments with SU Canola and how it is working to enhance development of the agricultural industry.
Minnesota Canola Council (Roseau, MN: December 2017): Cibus will share progress with its first crop, SU Canola, at the Council, dedicated to the canola industry through leadership, research, and education in Minnesota.
KMOT Ag Expo (Minot, ND: January 24-26, 2018): Cibus will be at booth 1056 and 1057 at the Midwest's largest indoor farm show, and will discuss the latest in agricultural technology.
For more information or to schedule an interview with a Cibus representative, please contact Shawna McGregor at 917-971-7852 or .
About Cibus
Cibus is an innovative company developing novel characteristics across a broad range of organisms. Cibus has a worldwide presence, with subsidiaries in both Europe and North America and a state-of-the-art research and development center in San Diego, California. In crops, Cibus is introducing its first commercialized product, SU Canola™, and building a broad pipeline of advanced crop varieties featuring beneficial characteristics, including healthier oil profiles, and improved tolerance to disease and environmental stress. Nucelis, a wholly-owned subsidiary of Cibus, uses the company's RTDS® technology to develop high value microbial products for the food, flavor, fragrance and personal care markets. Cibus' core purpose is to lead the transition to sustainable non-transgenic products and improved human health by harvesting nature's diversity. For more information, visit cibus.com.